About Magnetic Island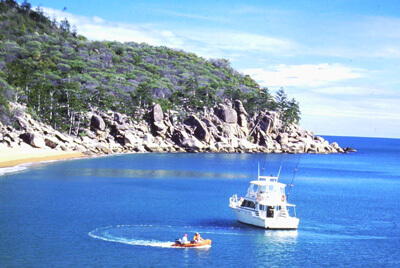 Magnetic Island
Where It Is
Magnetic Island is 8km off the coast of Townsville in Tropical North Queensland. It is a very beautiful and special place with a unique blend of national park, a variety of holiday accommodation and a small residential population of about 2,000.
Some of the best beaches and most picturesque bays in Queensland are found on the island, with the more secluded ones accessible only by walking track or boat. With an average of 320 fine, sunny days a year, the island has the perfect weather to enjoy them.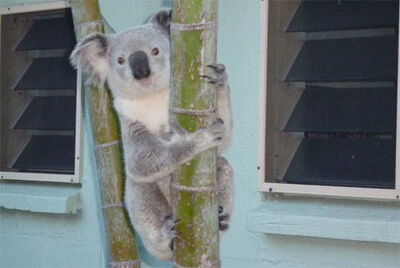 Koala

Island Activities
More than half the island is national park. Its huge granite boulders and towering hoop pines dominate the mountainous skyline. The rugged natural beauty is a haven for wildlife such as koalas, rock wallabies, possums and a variety of tropical bird life. The 25km of walking track through the hills of the park provide an opportunity to see wildlife in its natural habitat and also to enjoy the many spectacular views.
Magnetic Island has an abundance of activities ranging from jetski tours to horseriding to bushwalking or just relaxing with a massage.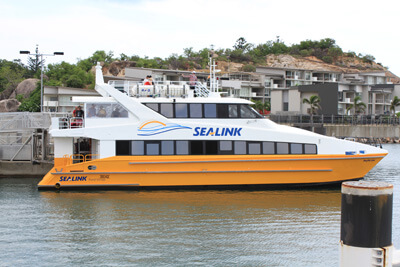 Ferry

Getting Here
When arriving at Townsville Airport, there are taxis waiting outside that go to the Breakwater Terminal, or a shuttle bus can be booked. At the terminal, Sealink has a passenger ferry that takes 20 minutes to get to Magnetic Island. Fantasea has a separate terminal with a car ferry that takes 50 minutes.
At the Nelly Bay Ferry Terminal, Sunbus has a Picnic Bay bus that meets the ferry. Go straight to the bus and it will stop at Island Leisure Resort. Alternatively, walk 1km down Sooning Street and then turn left into Kelly Street.